corona virus update – aS OF 28TH jUNE 2020.
Hi folks,
We hope you are all doing okay.
In light of the ongoing Corona virus Crisis and continuing lock down we have made the difficult decision to postpone all bookings for this season. This is to protect our customers, staff & family and to discourage unnecessary travel to the local area.
We would not be able to provide any activities until at least phase 4 of lock down easing, with social distancing reduced to at least 1 metre, however it may still not be viable to run sessions this season.
We would far prefer you get the full activity experience. If you have a voucher with a 2020 expiry date we will happily extend this through to the end of September 2021 to allow plenty time for you to still participate.
VOUCHER CODES/ SECURITY CODES 
We hope to publish a time table for 2021 by the end of July, as to when each of our activities will return so please check back for an update.
As a small, family run business, we appreciate your patience and understanding over this difficult time.
Best regards,
The AAA Family
Action Adventure Activities offer a wide range of outdoor activity experiences.
Based at our Outdoor Activity Centre on the edge of the Loch Lomond & Trossachs National Park we provide activities for both individuals and groups and all our activities are led by an experienced and welcoming team. We are perfect for a day out in Scotland, as we are within an hour's drive of Glasgow and just over an hour from Edinburgh.
Our extensive range of team building activities and outdoor activities for adults are ideally suited for groups of friends, Stag and Hen groups, corporate development and family days out.
We provide activities to both adult and family groups. Activities include:
Activity Breaks
Activity Treasure Hunt
Archery
Axe Throwing
Abseiling
Air Rifle & Pistol Shooting
Blindfold Driving
BBQ Hire
Canoeing
Canyoning
Climbing & Abseiling
Corporate Entertainment
Family Activities
Glamping
Hen Days
Highland Warrior Games
Kayaking
Kid/Junior Off Road Driving
Multi Activity Days
Mountain Boarding
Off Road Driving
Quad Biking
Stand Up Paddle Boarding
Stag Days
Target Sports
Team Building
Unique Events
Wrecking Ball / Crate Stack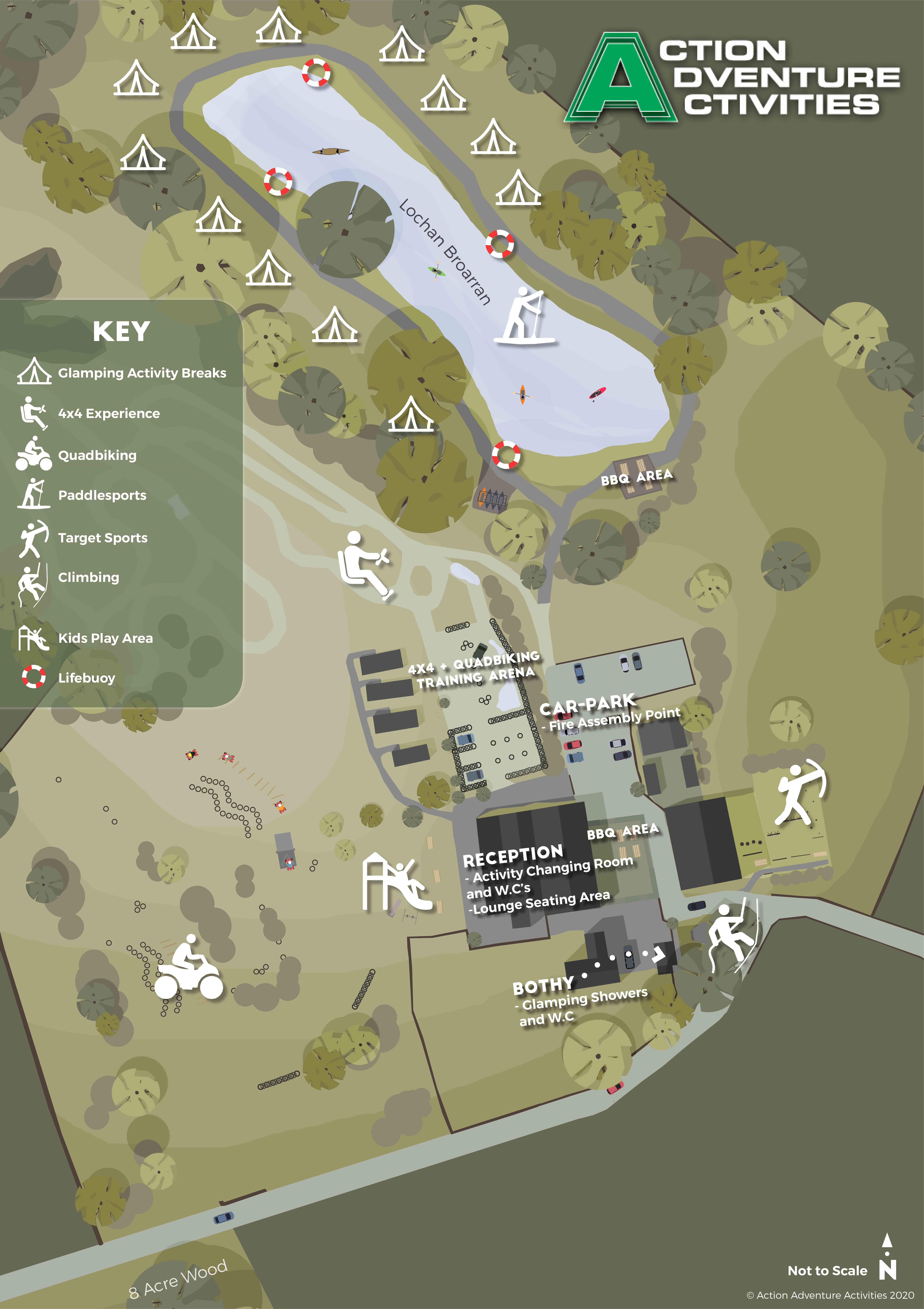 Our Environmental Policy
Many of our activities have a low carbon footprint, and we aim to reduce this even further. Future plans include developing changing facilities with sustainable wood-fire heating & hot water, as well as harvesting rainwater for flushing toilets and washing our vehicles. The farm consists of over 50 acres of land, with around 12 acres of woodland, which we aim to extend as a carbon off-setting project.
As a business that thrives in one of the most beautiful parts of the world, we at Action Adventure Activities have a keen understanding of the need to protect our environment.