GLAMPING ACTIVITY BREAKS – new for 2021
For 2021, we are setting foot in to the exciting world of Glamping, although our Glamping experiences are aimed at those with a sense of adventure! We are offering 1 or 2 night self-catering Glamping breaks which include some of our most popular activities, Target Sports, Paddlesports and Climbing & Abseiling.
Set in almost 60 acres of farm & woodland on the edge of the Loch Lomond & Trossachs National Park your Glamping Tent overlooks our very own Lochan Broarran (named after the boss' boys Brodie & Arran). Your tent is Off Grid and includes a woodburner stove (firewood included), twin beds or double bed, kitchen equipment, a 24 litre cooler box, table & chairs, storm lanterns & LED lighting and we provide a complimentary self catering breakfast basket.
We are located right next to the Sustrans Cycle Route 7 with trails leading to Aberfoyle and the Queen Elizabeth Forest giving great cycling and walking routes. Gartmore village is a 2 mile walk for some pub grub from the community owned Black Bull Pub and Hub and there are a variety of eateries in Aberfoyle.
Please have a read through our terms and conditions before contacting us to make a booking. We reserve the right to change our terms and conditions without prior notice. If you would like to make a booking or have any questions, please e-mail as at  aaascotland@gmail.com.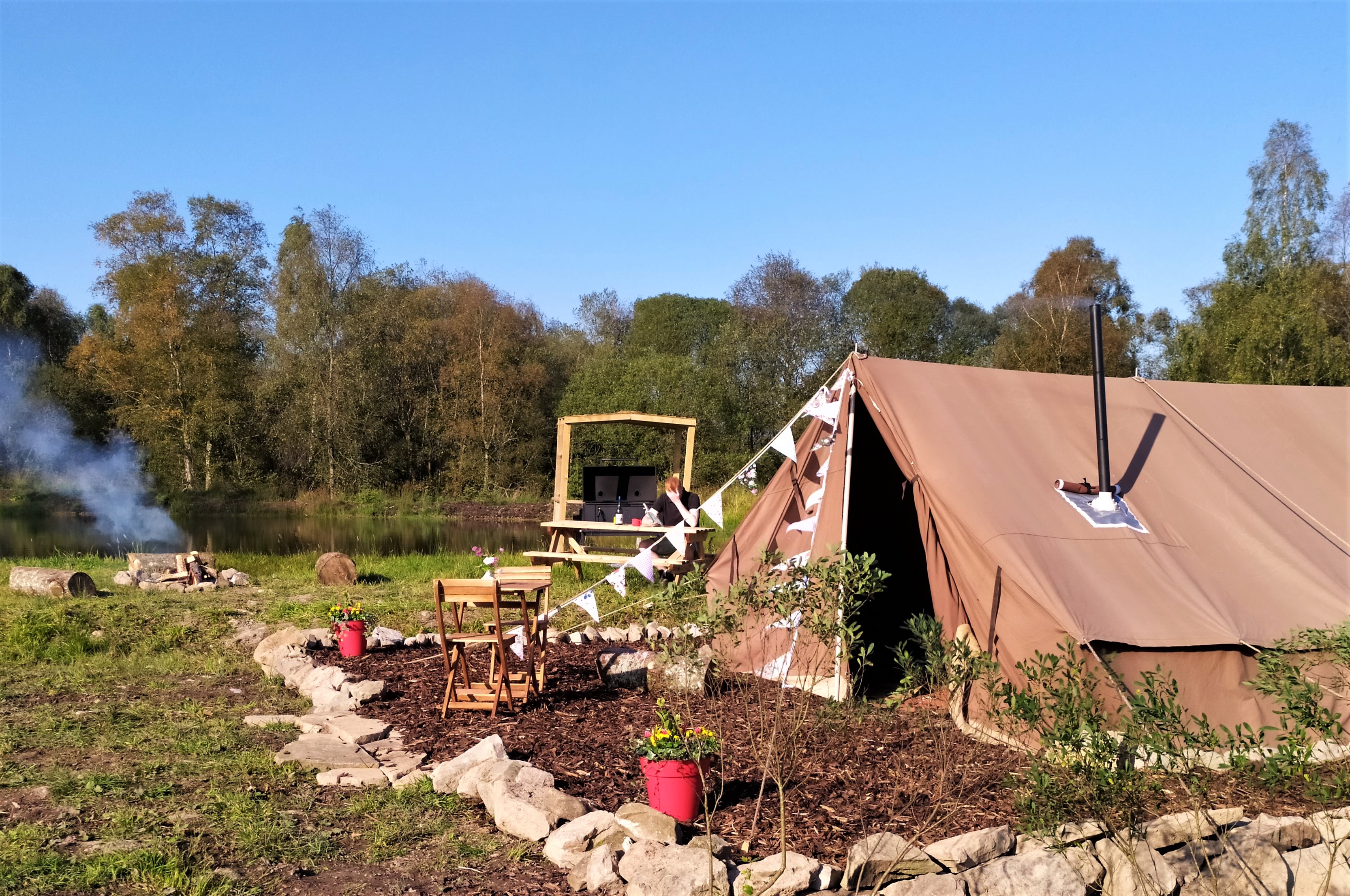 Our Tents
Included in the package price
Wood Burning Stove
Basket of wood. Additional wood can be purchased at £10 per bag.
Complimentary Self catering breakfast hamper (yogurt, cereal bars, tea, coffee, orange juice, croissants, butter, jam, marmalade, uht milk portions)
Each tent has its own BBQ and campfire area. Additional wood can be purchased at £10 per bag.
Pot, Pan & Kettle.
Utensils, Crockery & Cutlery.
Washing up equipment.
Drinking water supply to near your tent.
Each bed has a duvet & 2 pillows with linen provided. You may wish to bring pyjamas or similar for colder weather.
Extra blankets are also provided.
Small library and a selection of board games
Wheelbarrow – For moving your belongings to your tent
Activities – Target Sports, Paddle Sports, Climbing & Abseiling
We do NOT include:
Towels
Toiletries
Wifi/Broadband facilities (3G & 4G is available on most networks)

Facilities
Parking in our Car Park
24 hour access to our shower and toilet unit (a short walk from your tent)

Access to our reception area (from 9am to 8pm – Staffed from 9am to 5pm)

CURRENTLY UNAVAILABLE DUE TO COVID
Use of the Lochan is permitted (at your own risk and until 8pm) out-with pre-booked sessions however access to AAA equipment is prohibited.
CURRENTLY UNAVAILABLE. APOLOGIES FOR ANY INCONVENIENCE. For any guests that can't quite go fully off grid you have access to our activities reception area from 9am until 8pm. This area has a large screen tv and dvd player (available from 5pm to 8pm), sockets to charge your mobile devices, tea & coffee making facilities and a large wood burner fire as well as a selection of books, dvd's and board games. Please note we do not provide wi-fi access. 

Activities
Activities included – Paddle Sports, Climbing & Abseiling, Target Sports. Our other activities can be booked in advance.
Paddle sports – This session is run on our own private Lochan giving you the chance to try Canoeing, Kayaking & Paddleboarding whilst enjoying the beautiful countryside views. This session is ideal for those new to paddling. Your instructor will teach you everything you need to know whilst in a safe and supportive environment.
Target sports – Join us on our target sports field for an ideal introductory session to various zombie apocalypse survival weapons. Everyone will get a chance to try axe throwing, archery, air pistols and crossbow. We will talk you through how to safely use each weapon and also suggest some games for those of you who have a competitive side! Great introductory session that will leave you wanting more.
Climbing & Abseiling – Test your nerves and agility on our climbing and abseiling experience. This session is perfect for beginners, after a safety briefing from one of our knowledgeable and experienced instructors, you'll get a chance to try out some of our various routes on our climbing and abseil tower, before progressing to our climbing tree, reaching heights which should give you incredible views of the Loch Lomond & Trossachs National Park.

Arrival and Departure
Check in is between 4pm – 7pm on your day of arrival. Tents should be left clean and tidy in time for a  1pm check out. Late check in/out will incur an extra cost of £10 per hour or part thereof deducted from your deposit. In the event of customers choosing to depart early due to inclement weather or for any other reason, any outstanding accommodation or activities would be forfeit. The minimum age for the glamping activity break is 8 years of age.
Bookings & Availability
We reserve the right to refuse any booking at our own discretion. Bookings are not confirmed until you receive a confirmation email from us. Activities will be allocated to a booking at least 7 days prior to arrival.  The minimum age for the glamping activity break is 8 years of age. All bookings must be made by an adult over 18 years of age and all bookings must include a minimum of one adult per tent.
A refundable security deposit of £50 per person is charged at the time of booking. Refunds are made within 72 hrs of departure giving us sufficient time to check for any damage or breakages.
Changes can be made up to 4 weeks prior to arrival. From 4- 2 weeks  before arrival any changes will incur a fee of £40 per person. Beyond this time period no further changes can be made for any reason. Please check if any holiday insurance you may have will cover this eventuality.
For 2021 our Glamping Activity Breaks are available as Friday/Saturday only with activities taking place on Saturday & Sunday.
We plan to have 4 units available from June 2021, adding up to 4  further units through Summer 2021.
Prices – from £499 for 2 persons for 2 nights, £359 for 2 persons for 1 night
Our Glamping Activity Break prices can vary dependant on several factors. Only prices stated on the reservation statement are binding. We will occasionally offer special offers and discounts, these cannot be applied retrospectively after the confirmation has been received.